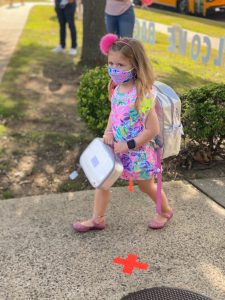 (God bless the teachers and the students – 2020-2021!  My granddaughter, Stassi, in her coordinated COVID outfit)
Dear Readers,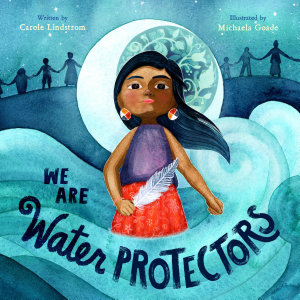 This book is illustrated by an indigenous artist – Allelujah!  We don't have enough representation from indigenous authors/illustrators published each year – less than 1%!  The collaborative efforts of Michaela Goade and Carole Lindstrom have produced an authentic and culturally relevant book – that is so timely right now in the United States.  We are stewards of this great world, and it's up to us to protect it.
I pulled the reviews from the Caldecott site, as you have permission to share.  As with the Newbery award, my selection The Fabled Life of Aesop  did not make it this year.  You can find its review in an earlier post.  However, I am so anxious to read Water Protectors.  You can find a great read aloud, by the author Carole Lindstrom on You Tube
The Randolph Caldecott Medal 
Awarded to the artist that illustrated the "most distinguished American Picture Book for Children published in the United States during the preceding year."
The 2021 Caldecott Medal Winner — We Are Water Protectors, illustrated by Michaela Goade, written by Carole Lindstrom 
In an appropriately forceful and inspirational call to action, Carole Lindstrom's lyrical picture book about defending Earth's natural resources is a must-read regardless of age. Inspired by Indigenous-led movements across the United States, and particularly the Standing Rock Sioux Tribe during the Dakota Access Pipeline protests, Lindstrom's powerful words are matched with Michaela Goade's stunning illustrations to create a reading experience that will resonate for years to come.
Caldecott Honor Books: Me & Mama, illustrated and written by Cozbi A. Cabrera; The Cat Man of Aleppo, illustrated by Yuko Shimizu, written by Karim Shamsi-Basha and Irene Latham; A Place Inside of Me: A Poem to Heal the Heart, illustrated by Noa Denmon, written by Zetta Elliott; and Outside In, illustrated by Cindy Derby, written by Deborah Underwood.
Coretta Scott King Book Awards 
The 2021 Author Award Winner — Before the Ever After, by Jacqueline Woodson 
ZJ's dad has always been a hero. As a beloved pro football star, he has been a source of pride and inspiration to his neighborhood and adoring fans — but now he is having trouble remembering it all. As old head injuries start to change the man, and father he has always known, ZJ grapples to hold on to the past and what it means for the future. A heartfelt story of loss and longing, award-winning author Jacqueline Woodson's captivating novel-in-verse explores the consequences and true cost of injury on Black bodies.
Author Honor Books:King and the Dragonflies, by Kacen Callender; Lifting as We Climb: Black Women's Battle for the Ballot Box, by Evette Dionne; and All the Days Past, All the Days to Come, by Mildred D. Taylor.
The 2021 Illustrator Award Winner — RESPECT: Aretha Franklin, the Queen of Soul, illustrated by Frank Morrison, written by Carole Boston Weatherford 
A tribute fit for the Queen of Soul, the story of Aretha Franklin's remarkable life is shared in a unique and gorgeously impressionable way that only the award-winning duo of Carole Boston Weatherford and Frank Morrison could create. As inspirational as it is educational, this Coretta Scott King award-winning book is the perfect way to honor an unmatched legend in American culture — all with a little (or a lot of) R-E-S-P-E-C-T!
Illustrator Honor Books: Magnificent Homespun Brown: A Celebration, illustrated by Kaylani Juanita, written by Samara Cole Doyon; Me & Mama, illustrated and written by Cozbi A. Cabrera; Exquisite: The Poetry and Life of Gwendolyn Brooks, illustrated by Cozbi A. Cabrera, written by Suzanne Slade
Once again, happy reading, and keep striving to diversify your libraries to reflect the cultural and linguistic diversity of this great country.
Check out "mirrors, windows, and sliding glass doors" by Rudine Sims Bishop.
As always,
Joanne