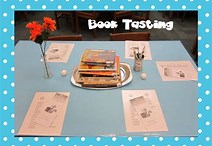 I recently hosted a "book tasting party" with my graduate students.  It was so much fun, and a good opportunity to share and talk about our favorite books in a relaxed setting.  There are so many resources online for party ideas, and my teachers appreciated the place cards and settings, festively decorated tables, and the cookies/candy!  The  teachers (Grades K-12) reviewed and rated books across grade levels.  They picked these three as their favorites:
Wonder – R.J. Palacio
Out of My Mind – Sharon Draper
The One and Only Ivan – Katherine Applegate
Fourth place went to:
The Dot – Peter H. Reynolds – to promote a "growth mindset."
Tied for fifth place were:
We're all Wonders – R. J. Palacio
Inside Out and Back Again – Thanhha Lai
Joey Pigza Swallowed the Key – Jack Gantos
The Boy on the Wooden Box – Leon Leyson
One of my teachers, brought a list of her fifth graders' favorites.  I was not surprised to see their appreciation for books that appear in series or collections.  As they get to know the characters and contexts of the stories better, their enthusiasm grows!  This is good to keep in mind when establishing a motivational and engaging library for this age group.   They liked:
The Diary of a Wimpy Kid  series
I Survived series
Beyonders  series
Mr. Terupt series
Hunger Games series
The Secret series
Beyonders series
Send me your favorite too!