Increasing numbers of children and young people in today's society act as language brokers for their parents or family members.  As such they might be asked to mediate/ interpret for family members in school, health/medical, or even workplace settings.  They might even be asked to assist classroom peers who have limited English proficiency.  Literacy specialists are now studying the translanguaging practices of students whose first language is not English, and the ways they mesh components of dual language systems while reading and writing.
As always, I look to books to assist me in conceptualizing strategies to assist multilingual students (and their parents) to become proficient literacy learners, who can meet the new task demands they face in school. I also look to see which books/stories will heighten awareness and sensitivity among monolingual learners.  I've successfully used Amy Tan's piece, Mother Tongue, to achieve this goal with my graduate students.
I've recently discovered La Princesa and the Pea, by Susan Middleton Elya, and just adore this retold version.  I need to add it to the list that follows.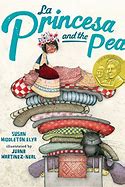 This list was created for classroom read alouds in the primary grades, and for family literacy programs.  I've made annotations next to each to help guide your selection.  You might recognize some of my favorite authors.
I would like to thank my graduate student, Lauren Munoz, for introducing me to Apple Pie and the Fourth of July.  The link below allows you to listen to the author, Janet Wong, explain why she wtoe the book.
Happy Reading!
Joanne
https://www.bing.com/videos/search?q=Review+of+Apple+Pie+and+the+Fourth+of+July&view=detail&mid=D3FD2A9FA5BB5D07F66DD3FD2A9FA5BB5D07F66D&FORM=VIRE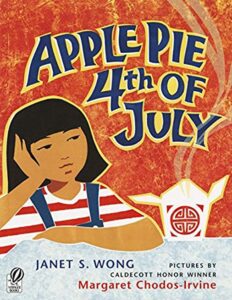 A Day's Work

by Eve Bunting

Talk about text complexity!  One quote from the book involves the boss telling the young boy, "The important things your grandfather already knows.  I can teach him gardening."  What conversations about dignity and pride in one's work can evolve from this  – also can raise awareness about those who work so hard for $60.00 a day!  Young readers from diverse cultures can make "text to self" connections to this book.
The Wednesday Surprise

by Eve Bunting

Shows multigenerational literacy learning in a positive manner.  Can be part of a learning to read text set.
I Love Saturdays y domingos

by Alma Flor Ada

Many language learners code-switch between their native tongue and the new language they are learning.  As such, this book written in dual languages (English and Spanish – a bilingual/bicultural text) can promote literacy learning across the two languages – I began to understand Spanish by using the English paragraphs to assist me.  I'm sure families new to this country might do the same with English!  There is even a song that is translated from Spanish – how much fun! The importance of family is also highlighted in this book – and the similarities and differences between cultures.  Shows that families come in all languages!
Gathering the Sun-An Alphabet in Spanish and English

by Alma Flor Ada

Children can learn the alphabet with words they know from their culture.  Uses lots of descriptive words – great vocabulary – ties to history, and implications for craft writing.
Siesta

by Ginger Foglesong Guy

Repetitive (craft –listing structure), question and answer format – "Anything else? My_________." And the answer to the question always contains a color (written in that color). Students can predict from the pictures what the children are planning to do.

Great primary book for emergent readers, with the English/Spanish translation – allows teachers to teach colors in both languages.  Objects are categorized by colors.

My Grandma

Mi Abuelita

by Ginger Foglesong Guy

What a loving family in this book.  I can envision parents reading these books with their children to reinforce their second language literacy and assist them to acquire new vocabulary.

A crafting idea would be to draw a story in pictures (in two settings) and then insert dual languages.

Abuelo

by Arthur Dorros

You can teach Spanish vocabulary with this book – children can use context to figure out what the words' meaning – some words are explicitly translated.  It shows the differences between country and city life.
Numero Uno

by Alex Dorros and Arthur Dorros

Teach fables and folktales with this book – show students stories with a particular moral – or lesson your characters learned that are universally true.
Papa and Me

by Arthur Dorros

Students can use this book as a model to write a story about what they did with a male family member – use past tense writing.
In My Family

En Mi Familia

By Carmen Lomas Garza

Bilingual/bicultural book.
Family Pictures

Cuadros de familia

by Carmen Lomas Garza

Both this book and the one above – are good mentor texts for writing about specific experiences – a memoir – with emphasis on culture – what the families do in these two books is an authentic representation of life.  Bilingual/bicultural  book.
My Colors, My World

Mis colores, mi mundo

by Maya Christina Gonzalez

Bilingual/bicultural book – teaching colors – (PreK-2) – Great pictures and the text is written in colors to reinforce comprehension.
A Birthday Basket for Tia

by Pat Mora

A great book for discussion of traditions.  Students can give examples of their traditional birthday experiences, and if able, use this as a mentor text for writing.
Gracias Thanks

by Pat Mora

A good mentor text for a "listing structure" – starting each page with "What are you thankful for?"  Interesting illustrations – you want to be part of this wonderful family.  This bilingual book can assist children to preserve their ability to read and write in two languages, be thankful for invaluable things – thankfulness is a universal concept – might be good to use at Thanksgiving.
Marisol McDonald Doesn't Match

Marisol McDonald no combina

by Monica Brown

Shows different family structures – biracial children – the concept of "mixed" and Marisol's characteristic "mismatching" is marvelous.  Can also be used to teach opposites – dog/kitty.
The Perfect Pinata –

La Pinata Perfecta

by Teresa Mlawer

The character has a great imagination – this bilingual book is good for teaching and reinforcing prediction.  The theme is very positive.
Tomas and the Library Lady

by Pat Mora

What a nurturing and welcoming atmosphere this library (and library lady) in this book.  The library lady is caring and helps Tomas to understand that good readers hear, see, feel, get lost in a book, and have that lived through experience (the transaction).  Tomas "brokers" as he reads aloud with this family – they learn from him.  The reader gets a view into the world of the migrant worker.  I can imagine using this book as a model for the type of literacy program I would want to establish – invite parents in to share oral storytelling traditions as they become competent in the English language.  The use of Spanish words throughout add to the power and depth of the book.
Mimi's Parranda

La parranda de mimi

by Lydia M. Gil

Very relatable to ELLS – great use of dialogue – positive outlook on having "2 homes."  Enhances students' cultural awareness and acceptance of individual differences.
I Pledge Allegiance

by Pat Mora and Libby Martinez

I'm happy to see a nice teacher portrayed in this true story.  It definitely can be used as a mentor text for memoir writing.  An emphasis is placed upon citizenship, the meaning of "The Pledge of Allegiance," and pride in one's own heritage and new citizenship.  Even though we all come from different backgrounds, we can still be patriotic.  It's a multigenerational literacy learning story, young child helping an elder.  Spanish words are placed throughout the text.
Colors! Colores!

by Jorge Lujan and

Piet Grobler

Bilingual/bicultural book – I was captivated by the illustration!  There is personification connected to the teaching of colors, i.e., beige falls asleep as he is rocked by the tide – beige is written in the color beige.

Great for crafting activity and the use of figurative language – as well as noticing the colors in nature.

Senor Pancho Had a Rancho

by Rene Colato Lainez

Based on "Old McDonald Had a Farm" –  English to Spanish (bilingual/bicultural)– what fun students can have making their own song – "Twinkle, Twinkle."
The Storyteller's Candle

La velita de los cuentos

by Lucia Gonzalez

A complex text!  Bicultural/bilingual historical fiction – portrays experiencing a new culture  – and the joy of discovering the world of books.  In this library all are welcome – family is involved in projects that build on their strengths and talents.
Book Fiesta!

by Pat Mora

Helps students to "broker" in this bilingual book in English and Spanish.  Talks about how families tell stories in all different cultures, and no matter which culture – they all enjoy a good story or book.
Are You My Mother? In English and Spanish

By P D Eastman

Carlos Rivera

The traditional Suess experience in two languages – English and Spanish.  What a  neat way to teach primary students some words from a different language.
Snapshots from the Wedding

By Gary Soto

Claymation illustrations shows the traditions of a different culture's family wedding – great mentor text for memoir writing.
Yoko Learns to Read – Look for it in your library – she helps her mother learn to read as she learns herself.

 

The Tortilla Factory

By Gary Paulsen

Hard work – thankfulness for the labor of the workers who nurture, grow, harvest, and grind the wheat for tortillas.  The crafting element of repeated lines is throughout.
Also don't forget The Sneetches by Dr. Suess – uniqueness and diversity – rhyming – working together – thinking things out and learning through our experiences.