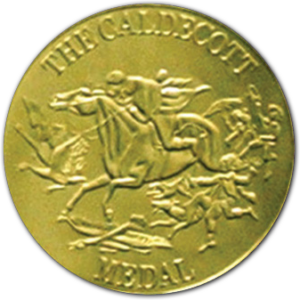 In late January, the Caldecott committee decides which nominee will win the prestigious award of the "artist of the most distinguished picture book for children" for 2019.  The criteria are:
Excellence of execution in the artistic technique employed.
Excellence of pictorial interpretation of a story, theme, or concept.
Appropriateness of style of the illustration to the story, theme, or concept.
Delineation of plot, theme, characters, mood, or information through the pictures.
Execution of presentation in recognition of a child audience.
There are some wonderful contenders that I thought I would highlight and review for this posting, keeping in mind the above criteria.  Actually, they are my personal favorites.  I shared these picture books today with a group of teachers who had much to say about their art work, portrayal, characterization, and the implicit themes running through the stories and accompanying illustrations.  I review them in no particular order, rather, I allow you to decide which you might like to check out in your local library.  I discovered that there was a "wait list" for the first one.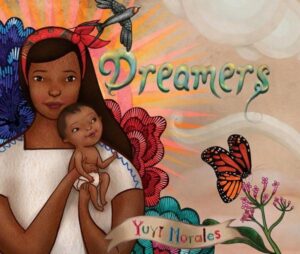 In my mind, this book exceeds all the stated criteria and is a beautifully written story of courage, hope, and resilience – very much in the memoir genre.  It reads like poetry, and its message makes your heart soar!
Every immigration story is unique and personal.  The author and illustrator, Yuyi Morales, wrote this book based upon her own experiences coming to this country with her two-year-old son to visit her great-grandfather who was very ill.  She spoke no English, so to endeavor such a journey with her child was remarkable in and of itself.  Yuyi never intended to stay in the United States, and wanted to return to Mexico (her "corazon") as soon as possible.  However,  she was shocked to learn that because of the immigration rules at that time, she was expected to remain in the United States as a "permanent resident."  She conveys her story in pictures and words, and shares how she and her son "learned to read, to speak, to write, and to make our voices heard."   Yuyi writes,
"Books became our language.
Books became our home.
Books became our lives."
I love the integration of Spanish vocabulary throughout the text, and the subtle yet deliberate emphasis upon language as power.  This book can be used as a mentor text for students to draft the stories of their lives as well.  English language learners can share the ways in which they learned to read and write.  In doing so, teachers and students begin to understand how many gifts we all bring to the classroom.
The magnificent illustrations draw you into the story, as they are so detailed and vibrant.  They overlap, intertwine, and reinforce each other in a grand collage of images and themes.  One teacher noticed that Yuyi's multicolored, feather like skirt of blended colors remains the same throughout her story – we agreed that this might represent the ways she brought her cultural understandings to her new life in America.
"We are stories.

We are two languages.
We are lucha.
We are resilience.
We are hope."
As teachers, we must focus upon the strengths our ELLs bring to the classroom, so I would definitely include this book in your classroom library.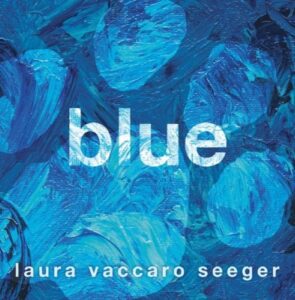 I have many of Laura Vaccaro Seeger's books in my library, because her illustrations are so incredible.  You can almost feel the strong brushstrokes as you run your finger across the illustrations.  I can easily see myself framing some of them for my grandchildren's nurseries!
Vaccaro's use of the color blue to capture the feelings of pet owners is unrivaled.  Her illustrations are fluid, and this book will resonate with all ages.  The two word phrases on each page, such as "baby blue" and "maybe blue," accompanied by the vivid paintings portrays the story of a boy and his dog growing up together.  My three and a half year old granddaughter Stassi, loved putting her fingers in the holes Vaccaro Seeger places strategically in her drawings.  I tried to encourage her to predict what she thought would happen next by looking through the hole.  I was not very successful.  However, I was so impressed by the little things she noticed.  Actually, the little thing represented the entire theme of this picture book.  Stassi pointed out the blue piece of fabric hanging out of the young man's pocket in the last illustration.  It is Blue's bandana.  I don't want to spoil the story or your personal transactions, so I won't tell you more.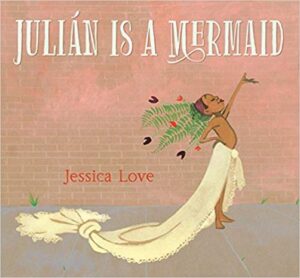 If you want to read a story of unconditional love, then Julian is a Mermaid is the book for you.  The story is about Julian, his abuela, and three mermaids he sees on the subway.  Julian adores mermaids!  Since I grew up in New York, the urban contexts of this story are familiar.  Every year in Coney Island, to celebrate the beginning of the summer season, they hold a Mermaid Parade.  The parade,  sometimes called the "art parade," features creatively costumed mermaids of all ages – like the women Julian saw.  Julian designs his own mermaid costume, and his Abuela supports him by offering him a colorful strand of beads to wear.
Jessica Love's illustrations are so expressively rendered and literally jump off the pages!  They are intricate, detailed, and help to tell this story.  They are culturally representative.  As with all of my recommendations, please read before sharing with your students.  You must judge its worth for for your students.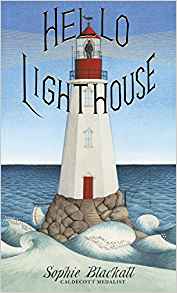 I love lighthouses and my father was a sea captain, so I think this book is probably my most favorite for many reasons!  First, it is so poetically written – beautiful use of language and imagery.
On the highest rock of a tiny island
at the edge of the world stands a lighthouse.
It is built to last forever.
Sending its light out to sea,
guiding the ships on the way.
From dusk to dawn, the lighthouse beams.
Hello!
   …Hello!
…Hello!
Hello, Lighthouse.
I adore the artwork – the lighthouse in a storm with the waves crashing up against its sides – the lighthouse in the fog just barely visible – the lighthouse in "a carpet of ice" – the lighthouse with whales passing by – the lighthouse watching the horizon – and finally, the lighthouse bidding farewell to the "keeper" and his family.  I can easily see using this mentor text to teach personification.  Also, you can tell a story through time – or just capture a moment.  The shades of the ocean during different seasons and times of the day are captivating.
The author's note at the end of the book models how a personal interest can be transformed into historical research.  The author, Sophie Blackwell, read lots of books and visited museums to find out more about life in a lighthouse home prior to electricity.  The book is authentically written and illustrated.  I believe children will love seeing the cross section illustrations and look inside the three floors of the lighthouse home.
My son thought his three and a half year old daughter would not know what lighthouses were.  He was surprised when she replied, "It's a tower, Daddy!"  Her comment reaffirmed my belief in the understandings the emergent reader brings to the text and literacy task.
Happy reading and I hope you share your impressions of these contenders, and others I may have left out!
Joanne