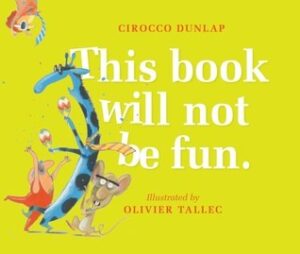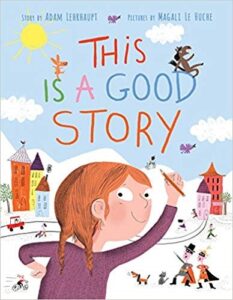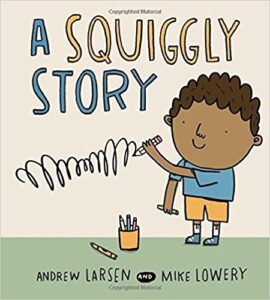 First, my apologies for stating the wrong titles of two books!  The correct titles are This Book Will Not Be Fun and A Squiggly Story.  I'm exploring new ways to tell you about my favorite books, and prefer not to have a script.
Inside the front flap of the first book is the following excerpt.  It provides you with a tasty sample of what's to come.
"Welcome to my book.  I assume you are reading this flap because you found the title inviting and are eager to read a book that promises no nonsense.  Well, rest assured there will be no nonsense.  Here you will find only sense.  And logic!  And scientific facts!  So please take a seat in an ergonomic chair, sit up straight, and read attentively.  And pay no attention to the giraffe on a bicycle."
This is a Good Story is cleverly written!  What a neat way to teach young writers about a setting,  characters,  conflict, climax and story plot.  I love how the illustrations show the evolution of the story from the child's perspective.  Young readers will enjoy the way the main character narrates her thinking processes while writing.  I like how the book demonstrates that we are constantly revising as we write.
A Squiggly Story will inspire emergent writers to tell their stories in whatever way they can!  We know that pictures are the first symbols children use to tell a story, but wavy lines often follow.  I think young readers will like the illustrations and accompanying speech bubbles.
As promised, here are a few more:
The Best Story  by Eileen Spinelli
How to Read a Story  by Kate Messner
Ralph Tells A Story   by Abby Hanlon
Happy Reading!
Joanne