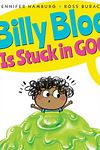 My three-year-old granddaughter, Lilly, is clearly developing phonemic awareness.  That is, she is beginning to recognize the rhythm, rhyme, and cadence of spoken language.  She especially likes rhyming words and loves listening to stories with them.  Lilly makes us laugh when she retells a story, and enjoys when we play along with her.  Inspired by Brown Bear, Brown Bear,  she will insert our names into her new version.  For example, she will say, "Mima, Mima, what do you see?  I see Lilly looking at me."   Phonemic awareness is an important conceptual understanding in learning to read.  So, I know that Lilly is well on her way to becoming a reader!
From the moment I saw this book, I knew Lilly would fall in love with it.    The main character has a problem, as shown on the cover and stated on the first page.
This is Billy. Billy Bloo.
Billy Bloo is stuck in goo.
     Who will help him. tell me who?
     Who'll unstick him from this goo?
          Would you?
An unlikely crew of characters attempt to "unstick" Billy, and in the process get stuck in the goo themselves.  So, the book is a cumulative tale as more and more fanciful characters join in the tale.  At the end, there is a surprising twist, that's sure to delight readers and continue the story conversation.
I think I'll make slime to follow our read aloud, and see what story Lilly invents with this substance and some figurines.  It will be interesting to see if she will incorporate the rhyming structure of Billy Boo.
You can find many recipes online for slime, some with and without glue.  Happy reading and sliming!
Joanne