For my inaugural post,  I chose some classic books that are worth revisiting and represent my beliefs about literacy learning in the formative years.  I was inspired to select Ferdinand, Leo the Late Bloomer,  and Harold and the Purple Crayon  because of the current contexts of  teaching and learning in the preschool and primary grades, and a wonderful article I read entitled "The Problem with Hurrying Childhood (https://www.edweek.org/tm/articles/2018/04/18/the-problem-with-hurrying-childhood-learning.html).  Now, more than ever, parents, caregivers, and early childhood teachers must continue to reinforce children's positive perceptions of themselves, termed "self-efficacy" or a "can do attitude."  Our little ones are blossoming flowers, who are beginning to develop "concepts of print," and understanding what reading and writing is all about.  This is a process that cannot be rushed or tested!  Rather, young children's "concepts of print" develop within mindfully prepared learning environments that are nurturing, exploratory, pressure-free, and of course play and literature-based.  These home, classroom or daycare settings highlight social relationships between young children, their peers, and their primary caregivers.  Read alouds and conversations abound, which promotes language development across the domains of reading, writing, listening, speaking, thinking, and visually representing.
1. Ferdinand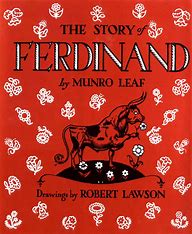 First published in 1936, this classic was reinvigorated by Disney Studios, featuring the voice of John Cena as Ferdinand.  For the most part, the movie was true to the original  story and conveys a positive theme of individuality despite societal norms.  In the book, Ferdinand's mother learns to understand his love for "sitting quietly and smelling the flowers,"  instead of "skipping and butting heads" with the other little bulls.  Consequently, as Ferdinand grows in size and strength, he remains true to himself despite others' attempts to make him act otherwise.  Many of today's children are exposed to unrealistic and inappropriate pop culture images for appearance and behavior.  How wonderful to have them read a book about an independent thinker who refuses to "go with the flow!"
2.  Leo the Late Bloomer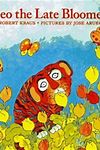 Leo father is worried.  He isn't reading, writing, drawing, or eating neatly like the other cubs.  He doesn't even speak.  His mother is not concerned, for she knows Leo will "bloom" when he is ready.  His father, however, is worried, and watches him every day for signs of "blooming."  Just as he is about to give up, Leo speaks.  He also begins to read, write, draw, and eat neatly.  As his mother reminds the father,  Leo accomplished all of this in "his own good time."  This book reminds me of parents, teachers, and caregivers that worry children are not meeting developmental milestones, are "on level," or "at risk" of failure with school related literacy tasks.   As preschool and kindergarten becomes more academic, notions of the child learning and becoming literate in "their own good time" are disregarded.
3. Harold and the Purple Crayon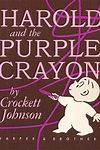 Harold creates and designs his own worlds, which the young child is so capable of doing if unimpeded.  Harold doesn't have to stay within the lines in a coloring book, he creates his own play scenarios and universe, and the young reader can explore these worlds with him.  I like this book for so many reasons.   First, it's so magnificent in its simplicity.  Second, it highlights imagination and inventiveness.  Lastly, it supports what I believe about children's artwork.  That is, it allows them to show us what they know and understand.  Pictures are the young child's writing.  Their pictures are symbols for their thinking, just as written words are symbols for ideas.  I can imagine fun interchanges with sidewalk chalk after sharing this book with a little one.