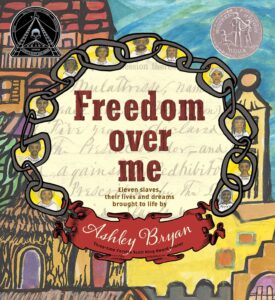 Along with my passion for reading, I am history buff and amateur genealogist.  I have discovered that our family roots run deep in the history of this country.  My research using primary source documents is probably why I was so drawn to  Ashley Bryan's Newbery Honor Book, Freedom Over Me: Eleven Slaves, Their Lives and Dreams Brought to Life.  For, she integrates authentic records throughout the artwork and prose to tell her stories within the authentic contexts of slavery.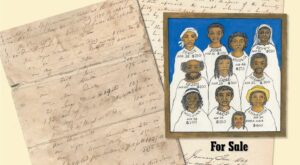 This book was inspired by a real appraisal record from 1828 that Bryan discovered.  The appraiser who created it, itemized and valued the property of the Fairchilds estate, including the money value for each of their 11 slaves.  For example, Stephen, 32, was valued at $300.  Dora, age 8, was given a $400 worth..  Using vivid artwork, prose, documentation, and creativity, Bryan describes the slaves' lives and dreams.  I especially liked the duality of their portraiture.  First, each person is described very factually (age, duties, worth, talents), much as an auctioneer might do.  Then, on the next page there is a more humane narrative.  Bryan writes what she imagines each slave's personal hopes and dreams for the future might be.  In doing so, she makes visible the invisible of stories of slavery. As Athelia, one of the slaves in the picture book states:
As slaves,
we do what our owners
expect and demand of us.
As human beings,
our real lives
are our precious secret.
Freedom Over Me conveys a theme of resiliency, endurance, and the survival of culture and tradition despite adverse circumstances.  The slaves stories are not "sugarcoated" nor portrayed in unrealistic terms.  Slaves were "profits" and "property" valued for how they could enrich the Fairchilds' estate. These sentiments are echoed in the 11 prose stories.
Teachers can use this book as part of a "text set" with older students to enrich instruction and discussion about the Civil War, issues related to slavery and justice – and so much more!  Students can search for factual information to support the stories presented.   They can appreciate how historical fiction must be based in factual information to be authentic.
One teacher used this book as a mentor text for her student.  This middle school girl wanted to write historical fiction about slavery, but her first chapter sounded much like a Black folk tale.  She was inspired by her reading of Virginia Hamilton's The People Could Fly: American Black Folktales.'

Bryan's book, helped this student to understand the difference between folktales and historical fiction.  While fine-tuning her understanding of these different genres,  she also enriched her abilities to descriptively tell a story that would captivate her readers.
Joanne